As we leave 2022 behind, gaming technology company Novomatic gave Yogonet a glimpse of its year and a balance of the twelve-month term, with board members Ryszard Presch and Johannes Gratzl providing their insights into the progress and achievements made during this period. The executives say they expect to see "continued growth in both the terrestrial and online sector" going forward.
As the pandemic struck the world in 2020, the industry saw a large portion of its recovery happen this year. To Gratzl, COVID-19 "naturally brought strong momentum in the online sector due to the many lockdowns across the world."
As a result, the iGaming segment "is rapidly growing and we have been able to build a great deal of trust from our gaming guests over the past two years," he noted.
He also pointed out that the fact that more and more countries are regulating gaming and thus creating clear regulatory and legal framework conditions "is certainly also having a positive impact" on the development of the gaming sector. "This allows us to continuously expand our international market presence," Gratzl notes.
Preach also highlighted that, as a full-service provider, the company was able to use the time during the pandemic to develop new products and technologies. "The high quality of our products and their good performance are largely responsible for the growth in all segments," he stated.
"As customer expectations and market requirements are constantly changing due to ongoing technological progress and changes in consumer habits, we have to remain flexible and are always challenged to drive developments in all segments," he said.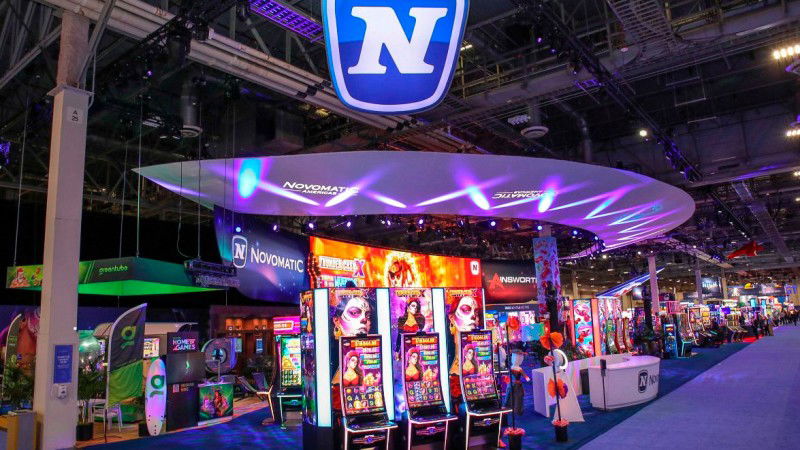 2022 was the year that saw industry events and showcases go back to their splendor, restriction-free and on an entirely in-person basis. Novomatic was part of many of the calendar's major worldwide encounters, with a portfolio that Presch described as being characterized by innovation and growth across all segments.
"This year's G2E in Las Vegas, the largest US gaming show, has not only been an excellent opportunity to present our innovations for this market, but also for international markets from Latin America to Europe and Asia," he said. "In Europe, 2022 has also been another busy year for events, with the Entertainment Arena Expo in Bucharest or LÖWEN ENTERTAINMENT's big roadshow."
"As one of the most important industry trade shows, we focus especially on the ICE show in London in February 2023. We are looking forward to participating at this major industry event again after a two-year break due to the pandemic, not least because of the opportunity for personal exchange with our business partners," he added.
Gratzl also pointed out that at all in-person industry events throughout the year, "it was evident that visitors and exhibitors were excited to be able to meet in person again and do business in a physical face-to-face setting."
He said that this was the reason the company had representatives from all regional units available at the gaming shows, "thus ensuring that every customer would have a go-to contact from their country."


This year, Novomatic received the internationally recognized G4 certification for player and youth protection in Italy and Spain. In addition to these markets, the company's top-selling subsidiaries in Austria, Germany, the UK and the Netherlands are already G4 certified. According to Gratzl, "this represents a uniqueness in the industry."
"We also consistently achieve top rankings in international ESG ratings such as Sustainalytics for our successfully implemented sustainability goals in the environmental, social and corporate governance areas," he points out.
Presch concurred and added that, in the area of green energy, the company is currently making major investments and implementing photovoltaic systems at its headquarters and in central core markets.
"Our subsidiary in Spain has already installed large-scale solar systems at its headquarters in Alcalá de Henares in Madrid in 2022. The installation of photovoltaic systems at the headquarters in the first half of 2023 will also be an investment in the millions," he added.
As the new year approaches, Gratzl assured the company is "very confident" that the growth trend will continue and, to this end, investments will be significant in 2023.
"The majority acquisition of the HBG Group in Italy in November also marked a significant milestone with regard to further international growth," he noted. "The acquisition has made Novomatic one of the largest concessionaires in a region that is one of the most important in the world due to the local popularity of gaming."
As a result of this transaction, which is the largest in the company's history, Novomatic became "one of the leading operators of VLTs and AWPs in Italy in terms of operations," he said. "Our Online gaming and sports betting businesses will also benefit from the acquisition."
Presch concluded that to further enhance the performance of all the company's product categories, the company continues "to make sustained investments in intensive research and development."
"We are also in constant communication with our customers and partners and incorporate their feedback into our ongoing product development. We will soon have the opportunity to do this again on a large scale at ICE London," he concluded